We've made it to April! It feels like 2019 is flying by and Easter will be here before we know it. Thankfully, it's coming a little late this year, landing on April 21 — giving us a couple more weeks to prepare both our personal and business holiday plans.
Most retail stores are readily prepared for the candy-infused holiday well in advance. By February (and sometimes even earlier!) many stores have their Easter-themed merchandise up on the shelves. Why is this holiday such a worthwhile marketing opportunity? According to the National Retail Foundation, the 2018 Easter holiday raked in an estimated $18 billion in sales. This year, the average expected spending of people celebrating this year will increase per person — but the overall amount spent on Easter will be the same (or less!) than 2018.
Although the most popular items tend to be food, candy, and various gifts, any industry can utilize the upcoming holiday in their marketing. With only a couple weeks left, now's the time to implement an Easter-themed marketing campaign, if you haven't already.
Last year, we collected four of our favorite egg-cellent Easter marketing campaigns from previous years. Now we've updated our list to reflect the most current successful Easter marketing campaigns as of April 2019.
If you know of any creative holiday marketing tactics we missed, be sure to let us know. Hoppy marketing!
1. Nestlé: Alice
It's no surprise that some of the best advertisements and commercials around Easter come from candy and chocolate companies. Fortunately, some companies still manage to entertain us with unique, memorable ads. Nestlé, one of the world's largest food and beverage companies, highlighted how the Easter holiday makes you feel, rather than focusing on their specific products in their 2018 campaign.
If you haven't seen or heard of the story Alice in Wonderland, than this commercial may not strike you as creative. As an avid Alice fan, however, it's simplicity and silly look stand out from the traditional chocolate ads you see every day. In the 60-second clip, you see an oversized woman (Alice) doing average daily activities like taking a shower, commuting to work, and going out with her friends. Then you see her get a train and arrive at her family's home (still oversized). As soon as her mother (or family member, friend, etc.) opens the door, Alice suddenly shrinks down to the average human size and the words "life makes us grow up; Easter brings us back."

Nestlé's ad serves as a gentle reminder that no one is too grown-up to enjoy the holiday.
2. Cadbury: Live Easter Egg Hunt
As always, Cadbury makes this list by delighting us every year with not just their delicious Cadbury Eggs (and other Easter-themed treats), but their ever-creative holiday marketing campaigns. Back in 2015, they released their Egg & Spoon Cadbury Egg with this fun, family-friendly advert. In 2016, they launched their "Bunny's Been Busy" campaign that featured a 30-second television ad with an animated bunny who left chocolate eggs around for children everywhere and used the trending hashtag #EggsEverywhere. Then, they released a more guerilla-style marketing tactic when they placed three large eggs in Loch Ness – making it look like a sighting of the Loch Ness Monster.
Last year, the confectionary brand partnered with Facebook360 and Ogilvy Melbourne to create a virtual reality social media marketing campaign. Together, they launched the first live 360-degree Facebook video Easter Egg hunt. Users were egged to log on and use the 360-degree video feature to scan the virtual landscape and hunt for hidden eggs. The first person to spot the egg and comment its location was rewarded with real-life chocolate.

While this marketing event was great for kids, it also allowed anyone to join in on the fun and be reminded of the joy and wonder that surrounds the Easter holiday — even when it's as something as simple as hunting for eggs in your backyard.
3. Peta: Baby Chicks
So far, every Easter-themed marketing campaign we've listed focused on the joy and happiness that both food and family can bring. However, this next advert by PETA, the People for the Ethical Treatment of Animals, took a darker path. Back in 2014, they released a 40-second-long clip of baby chicks falling in slow motion into a garbage can. PETA wanted to use the holiday marketing potential to focus on the fact that billions of newborn chicks are male, and that those males are killed as a waste product of the egg industry every year.
Although it's five years old, this video is striking in a few ways. One, it's one of the few ads not selling food- or confectionary-related products; and two, nobody expects a video of cute, fluffy baby chicks to end in such a negative and depressing light. Despite how unhappy and unsettling this short clip makes you, we can't deny its effectiveness.
4.Carlsberg: #IfCarlsbergDidChocolateBars
We can't leave you on such a sour note – so here's another favorite campaign launched by Carlsberg, a world-renowned brewery. In 2016, Carlsberg made a name for themselves in the marketing world with their #IfCarlsbergDidChocolateBars campaign. We all know that candy and chocolate have a large role in the Easter holiday, so Carlsberg wanted to share with the world how it would look if they dabbled in the candy industry.
To accomplish this, they created the hashtag #IfCarlsbergDidChoclateBars and built a rectangular-shaped box that was wrapped like a candy bar outside their brewery. When the wrapper was pulled down, onlookers were shocked to see a bar made of chocolate instead of a large chocolate bar.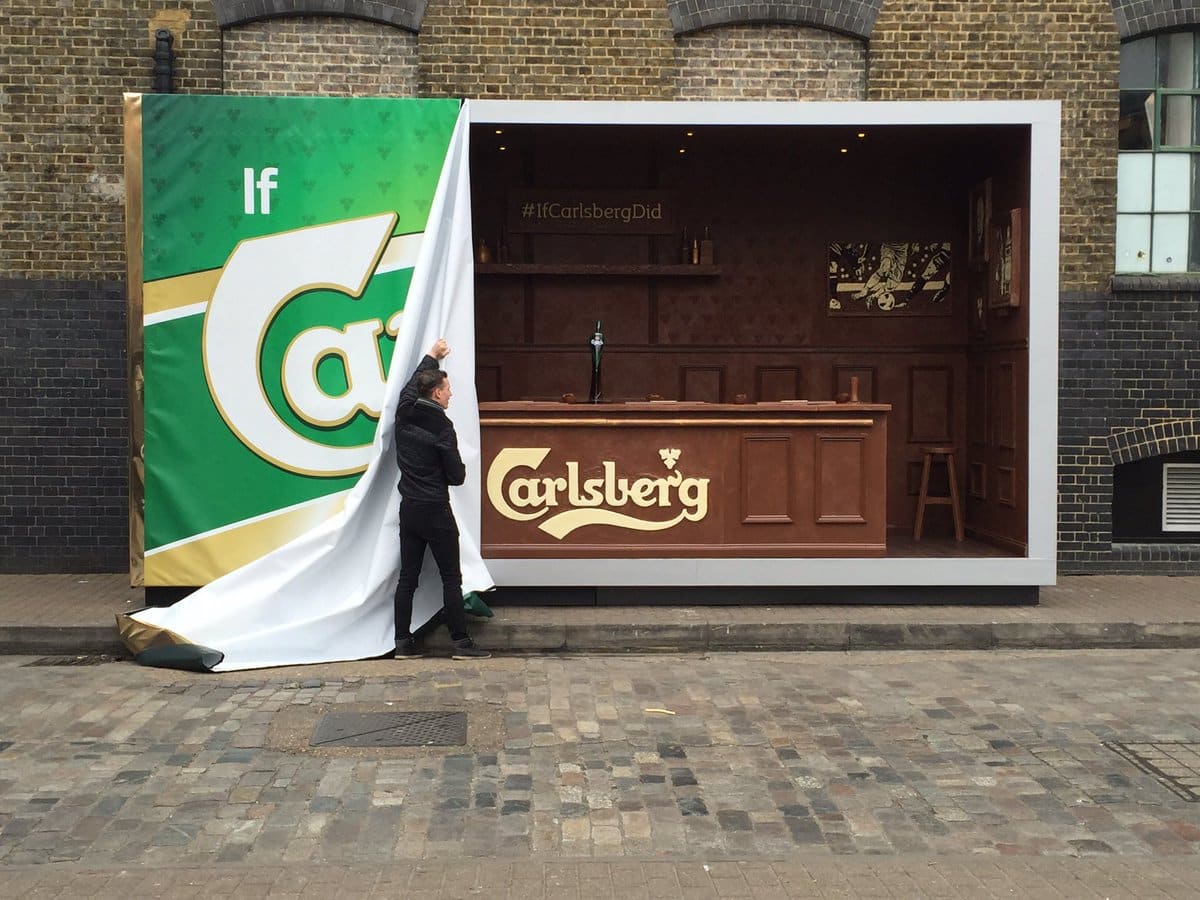 This ad does a wonderful job reminding us that sometimes we can get caught up in the materialistic aspects of the holidays and forget what's really important: being kind and showing love to others; whether it be your friends, family, or a stranger with two broken arms.
Recap
Remember, you don't have to be strictly in the retail business to utilize Easter in your marketing strategy. There are countless ways you can mix the holiday into your marketing strategy. What and how you choose to do it really depends on your brand's or campaign's goal.