It's the middle of October and businesses are up to their eyeballs in Halloween-themed products and sales. From candy to decorations to costumes to haunted hayrides and corn fields, consumers are spending billions of dollars this month. In fact, in 2016 Halloween spending reached $8.6 billion, and it's expected to escalate this year. If you haven't utilized Halloween marketing before, now is a good time to start.
Even if your business doesn't dabble in selling candy or costumes, there are plenty of ways you can integrate Halloween-themed marketing for your own products or services. For example, countless businesses like Chase, State Farm, and liquor companies use horror movies and other Halloween (or Day of the Dead) traditions for their themed marketing campaigns.
Of course, we understand that not all companies have the same budget as large corporations, or the time to plan your marketing months in advance — but don't be frightened! There are plenty of ways you can create spook-tacular campaigns before the end of the month. Below are a few tricks and treats that can help you implement successful Halloween marketing campaigns for social media.
1. Have a costume photo contest
Since Halloween is primarily about dressing up as someone (or something) else, it comes as no surprise that many businesses will use their social media to host a costume photo contest. This type of campaign is great for raising brand awareness, but also has the opportunity to garner more leads.
For example, in 2016 Petco hosted a "Make a Scene" photo contest, which involves contestants dressing up their pets and sharing the photos via Petco's social media. Not only is this great for brand awareness, but you can use a landing page for the contest to collect new email subscribers, become a member, etc. In addition, many users will share the contest to their followers, which is free advertising for Petco (and expands Petco's social media reach).
You can also have an internal costume contest and document it on your social media. While this may not directly correlate to gaining new leads or promoting a product or service, it can help give your audience a feel for your brand personality and a behind-the-scenes look into your office.
2. Decorate your social profiles
An easy way to inform your audience that your business is celebrating the October holiday is to design themed cover photos and profile photos for your social media accounts. This social media trick is free and takes almost no time — especially if you have an in-house graphic designer who can whip them up, or by using pre-made templates available on (free!) online tools such as Canva.
You can use these graphics to promote a holiday sale or just keep it purely decorative. A little Halloween spirit can go a long way. For example, the popular food blog, Delish, used their Facebook cover photo real estate to show of a delicious Halloween-themed treat.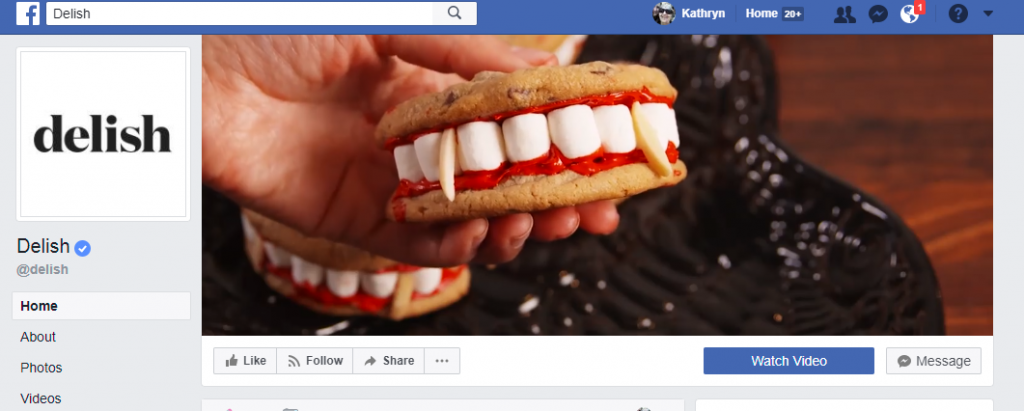 3. Share some videos
Similar to decorating your social profiles, this trick doesn't require a large amount of time or money. There's live video on practically every social channel, like Snapchat, Instagram, and Facebook Stories, so you can film and share anytime, anywhere.
Record an employee costume contest, share videos of your employees dressed up or at a company Halloween party. Behind-the-scenes content shows off your brand's personality, and proves to your audience that you're willing to be transparent with both your employees and clients.
In addition to behind-the-scenes content, you can create a themed video that promotes your product(s) or service(s). Many blogs do this extremely well, particularly around the holidays. To use Delish as an example once more, they share videos on creating adorable and tasty Halloween treats —like these mouth-watering Pumpkin Patch Brownies:
4. Offer a scary good deal
As with most holidays, consumers tend to expect seasonal offers on your products or services — whether it's an all-out sale or a small discount. If you're having trouble coming up with a seasonal offer, try one of these simple sales:
X% off your purchase if you visit our store in costume
Discount on Fall- or Halloween-themed products
Free shipping if you purchase a Halloween/seasonal item
Use Halloween-themed visuals and ads to promote your deal throughout social media. You can also combine this trick with the above ideas by including calls-to-action on your social media cover photos, or in your video content.
5. Write a blog
While this isn't purely a social media campaign, it's worth a mention because you can use your social media to promote your blog. And in some cases, like with LinkedIn, you can publish an article right to your newsfeed.
Write a post to share some helpful Halloween content (like this one!). It can be related to your business or just a fun, holiday-themed post you want to share with your audience. This also can help you advertise your seasonal offers by including CTAs throughout your themed content.
Let's use Delish as another example. During the Halloween season they share pumpkin-spiced or Halloween candy recipes on their website, blog, and social media.
Bonus Tip!
Promote a Halloween-themed giveaway on your social media. Have people like, comment, or share to be entered into a contest.
Recap
You don't have to be in the candy or clothing business to create a successful Halloween marketing campaign. With the right tricks and treats, you'll be able to grow your brand awareness, social media reach and engagement, and maybe even snag a few new customers, too.
If you have any spooky social media ideas we missed, please share in the comments below.
Happy Halloween!