Every year, Black Friday deals seem to start earlier and earlier. And over the years they've added Cyber Monday and Grey Thursday to extend the sales through Thanksgiving to the following Monday. Now, businesses are spreading out their offers all month long for "Grey November."
If you don't have your Black Friday strategy figured out by now, don't panic! Since businesses have started using all month for their holiday sales, there's still time to put together some last-minute Black Friday marketing strategies.
And there's plenty of strategies to choose from. Many assume that Black Friday offers are only good for physical products, like televisions, cell phones, etc. – but with the right strategies, any business can utilize the popular shopping holiday to their advantage.
From email to social media to traditional marketing, you can use all, some, or even just one marketing tactic to better your chances of Black Friday success. Below, we've collected our favorite Black Friday marketing strategies that are sure to help your business stand out.
1. Email Marketing
People check their emails on the days leading up to Black Friday, but they continue checking when they're in your store shopping. Utilize your email lists by sending out teasers and sneak peeks enticing your customers to stop by your store (or online store) on Black Friday to get the hottest deals.
Flash deals are another way you can put your email marketing to use. Send out emails on Friday that offers a limited-time only flash sale for a certain part of the day. Not only can this increase your foot traffic, but can make your subscribers feel like VIP members by getting exclusive deals.
While an older example, this Samsung email shows how you can start marketing before Black Friday, and figure out exactly what your customers want to see from you on Friday (and Cyber Monday).
2. Share on social media (and increase your ad spend)
With consumers using their mobile devices to shop and compare products, there's no better time to start utilizing your social media. Similar to email, you can use social media to tease your deals ahead of time, share your deals as they're happening in real-time, and either extend your deals or use your platforms as a way to thank your customers for all their business and loyalty over the holiday weekend.
Paid ads on Facebook and Instagram allow you to specifically target your ads. You can create target audiences based on information of current customers, and target brand new customers as well! Twitter is great for contests and creating hashtag campaigns. With Twitter's voting option you can ask your followers what items they would prefer be on sale for your Black Friday and Cyber Monday events.
In 2016, Target had an all-around successful and consistent social media approach to Black Friday. They had Snapchat filters, Facebook ads, Instagram ads, and more. In fact all their Black Friday marketing is clean and compelling year after year.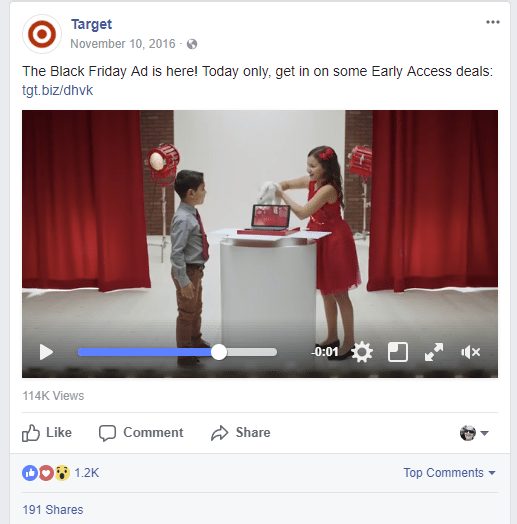 3. (In-store) SMS promos
How nice would it be to walk into a store and get that day's deals right to your phone?
Using beacon technology, you can have SMS ads sent right to your customer's phones. This is a particularly strong tactic on Black Friday (and throughout the whole weekend) when shoppers are running around frantically trying to dig out their coupon clippings and sales ads.
This post by Mobile Marketing Engine has an interesting collection of SMS ads you can gather inspiration from. Although these are not necessarily ones that are sent to consumers when they're in the store, that doesn't mean you can't mimic their ideas and adapt them to beacon technology.
4. Have a deal of the hour
If you decide to host flash deals, you can use the above SMS tactic to give your current in-store customers an exclusive deal that lasts only for a very limited amount of time. You see many businesses do this under the name "doorbusters," or sales that are only available for the first few hours of the morning.
Stand out from the crowd by having a time-sensitive sale in the afternoon rather than in the morning. JC Penny's did this in 2016. They had varying sales throughout the day that were only available for a few hours at a time.
A note of caution with this idea: you have to be very careful with your in-store signage if you use this approach. Take your signs down or replace them with the new sales as quickly as possible – otherwise you'll have angry customers to deal with when they go to check out and the $8 sweater they wanted is back up to its original price.
5. Extend your sale
As we mentioned earlier, Black Friday is no longer just on Friday. If you didn't have the time to start your sale early, try running yours longer instead. You can do this two ways. One, extend your sales by opening earlier and staying open later on Black Friday; and two, by having your sale last through the weekend and even into the following week.
For example, many people will boycott shopping on Thanksgiving for various reasons and even avoid Black Friday shopping because of the chaos. Cater to this crowd by extending your sale past Black Friday to give your customers more opportunity to snag your good deals.
6. Mail a holiday card
We live in a digital age. Keeping in touch with your friends and family is just an e-card or instant message away. Switch things up and create a traditional direct mail advertisement to surprise your customers!
Plenty of businesses still mail out Black Friday flyers, but how many also send out thank you notes to their customers? Add a thoughtful handwritten note to your flyers this year and we guarantee your direct mailer will stand out in your customer's mailbox. According to a survey by Taradel, 75% of shoppers prefer receiving ads and offers via direct mail (and email).
Bonus tip: Do this for both Thanksgiving and the winter holidays. Or if you don't think you have enough time to send anything out for Black Friday this late in November, then send out a thank you note after the hectic weekend to thank your customers just for being them (and possibly promote your winter holiday sales early!).
7. Give the gift of the gift card
Speaking of cards, when you can't decide what someone wants or needs, most people turn to a gift card. Although some may argue that gift cards are lame or impersonal, consumer surveys say different. In fact, over 80% of shoppers plan to buy at least one gift card this season. Whether it's for iTunes, their favorite store or restaurant, or to the movie theaters, you'll be hard-pressed to find someone who doesn't appreciate a little extra cash.
Get in some extra sales by offering $50 for $40 or even go as extravagant as two $25 gift cards for only $25 (a.k.a. a buy one get one free offer). This is especially helpful when you're running behind on your marketing strategy because it doesn't necessarily take a lot of inventory stock. If you run out of cards in-store, you can always email people their gift cards or a coupon to come back and redeem the physical gift card at a later date.
8. Give back
Last, but certainly not least, is the gift of giving! Consumers – specifically millennials – prefer the brands they're loyal to not only make quality goods and services at a fair price, but are also socially responsible. Nielsen published a survey in 2015 that indicated 66% of consumers are willing to purchase a product at a higher price if it comes from a sustainable company.
With all of the traffic the Black Friday (and all of Grey November) brings, now's a great time to put a percentage of your sales to good use. Pick a local or popular charity and be sure to spread the news via social, email, and in-store signage that part of your customer's purchases will go to helping those in need. The holidays tend to put people in the spirit of giving, so this kind of promotional deal helps your business, helps charities, and helps your customers feel good about themselves, too.
Recap
No matter what industry you're in, hopefully we're given you some inspiration to find a way to utilize the upcoming shopping holidays to your advantage. Whether you go the traditional or digital route, there are many channels you can (quickly and easily) use to put together a last-minute Black Friday marketing campaign.
And if you really think you're too late for this year, then put these ideas aside to get a jumpstart on next year's Black Friday! If you've seen other creative Black Friday marketing campaigns we didn't mention, please share them in the comments below – we'd love to hear about them!