Customer Lifecycle Marketing 101
Tailoring what we say to another person, based on what you know about them, tends to come naturally. Yet, when businesses attempt to apply this tactic to communicate with their prospects, it doesn't always work as well as anticipated.
Unfortunately, many businesses are still creating one message and sending it out to all of their customers, regardless of where they may be in the customer lifecycle or Buyer's Journey. Although, many businesses have the proper information about their customers, they just either aren't aware, or aren't utilizing it to their fullest potential.
Hannah Stacey put it best in her post for Ometria when she wrote:
"When we take context into account and make our marketing more relevant to each customer's circumstances and relationship with our brand, they're more likely to engage with our messages and buy stuff (and keep coming back for more, too)."
Just as your interactions with people change based on what you may or may not know about them, so should your interactions with your customers and prospects. In other words, you should know where your customers are in their lifecycle and how you can use that information to increase conversions and establish long-lasting relationships with your clients.
Let's discuss what the customer lifecycle is, its main stages, and how this knowledge can help you segment your customer base.
So, what exactly is the customer lifecycle?
The customer lifecycle is essentially the different stages a buyer goes through as they interact with your business. CLM, or customer lifecycle marketing, is using the customer lifecycle to segment your buyer personas in order to create unique, targeted content, and develop a core base of active, loyal customers.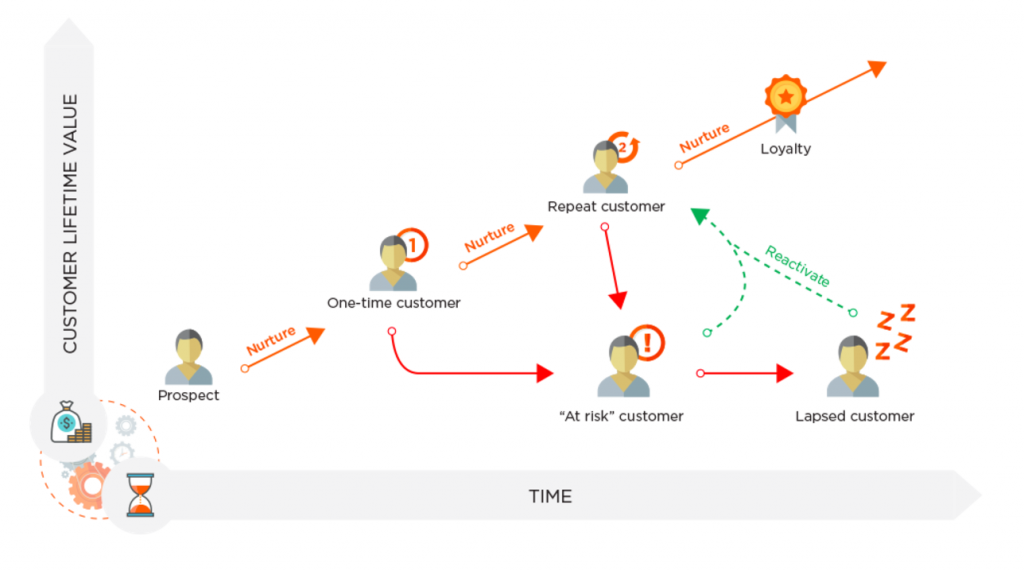 Image Source: Ometria
The customer lifecycle is essentially the different stages a buyer goes through as they interact with your business. CLM, or customer lifecycle marketing, is using the customer lifecycle to segment your buyer personas in order to create unique, targeted content, and develop a core base of active, loyal customers.
To fully comprehend the customer lifecycle, it's best to go through what it is stage by stage.
The main stages of the customer lifecycle (and how to optimize them)
While businesses can choose to tweak the specific steps of the customer lifecycle to better fit their needs, the five commonly considered stages of the lifecycle are: acquisition, activation, retention, revenue, and referral.
Acquisition
Sitting at the top of the funnel, acquisition is when users come to your site from various channels — or the acquiring of users.
Your goal at this stage is usually to drive people to your website and convert them to either a subscriber, lead, or customer. Here, you may not know the details of these users visiting your site. However, these people are definitely coming to your site with specific needs in mind.
It's your responsibility to ensure you know what your users want to get out of your site, and that there are clear steps for users to take to complete these goals. In other words, focus on the optimization of individual pages and creating stronger conversion funnels.
On Newbird's website, our homepage separates our services into 6 main panels, allowing the user to easily dive further into the service that best matches their needs (see below). Each of these pages eventually breaks into subpages, which drills further into the specifics of each service.
Let's delve a little deeper into what each of these stages mean, specifically for ecommerce businesses. We'll be using our Newbird website and marketing as real-life examples.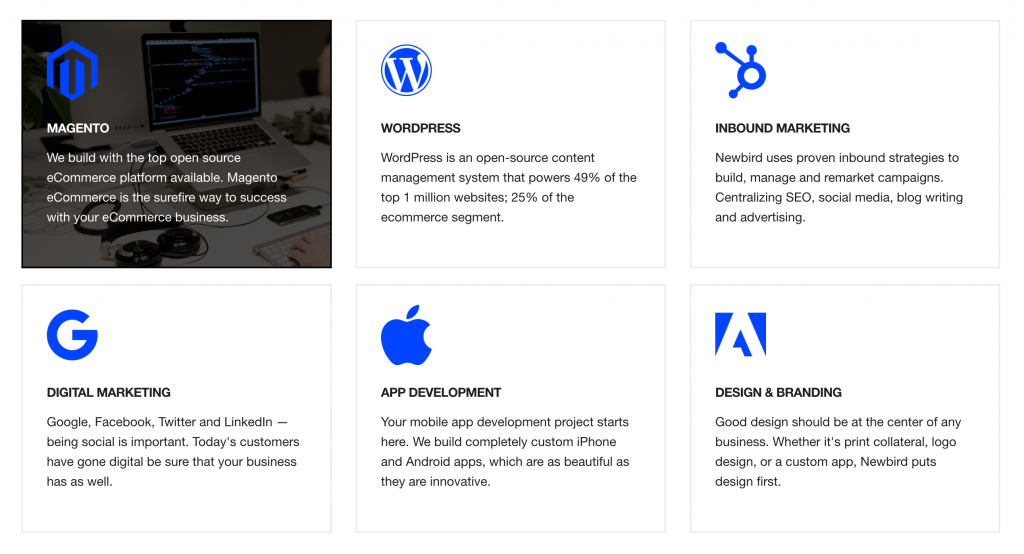 Activation
Your visitors move into this lifecycle stage by converting into a customer. More accurately, when you visitors find value in your product or service — which usually happens over the course of multiple actions, rather than a single conversion.
For example, if a user comes to the Newbird website looking for information on Magento, they could read through the Magento page and immediately click the "Contact Us" to purchase the service.
However, many activations happen after a few actions are taken. Rather than contacting us right away, they may first read through one or many of our Magento blog posts. Having a variety of blog posts on one of our specific speciality services not only reaffirms our authority, but allows readers to get a sense of our personality and wealth of knowledge. We typically include a reminder at the end of the blog post letting the user know to contact us if they have any questions, or need services. In addition, we have incorporated Intercom Live Chat, which allows users to contact us right away if they have any questions about what they are reading.
Whether it takes users one or more actions to enter the activation stage, be sure you are optimizing your website to get as many users activated as possible.
Retention
What many businesses fail to remember is that just because a user became a customer once, it does not guarantee that they'll do so again. Retaining — or, more appropriately, delighting — customers is just as (or more) important as acquiring new ones.
How do you go about retaining your customers? A sure way to is create content and deals that are related to their specific needs. A post on the Kissmetrics blog states that, "your goal in the retention lifecycle stage should be to optimize calls-to-action and user flows to help users have a more successful and enjoyable experience…" If your customers constantly have pleasant experiences with your brand, the more likely they'll remain loyal, active customers.
At Newbird, we retain and delight our clients by consistently meeting timelines, ensuring communication is performed in a timely manner, and developing innovative methods for meeting their goals. In business, one of the easiest ways to retain customers is by providing impeccable customer service.
Revenue
According to Bain and Co., a 5% increase in customer retention can increase a company's profitability by 75%. So, it's safe to say that retention is a crucial aspect in increasing your overall revenue.
A lot of continued revenue can come from charging current clients automatically on a monthly or annual basis. In addition, you can upsell customers by offering them new or upgraded products or services when relevant.
Referral
There is much more to marketing and creating a successful business than having a great product or service. You need to understand how to drive sharing of your business — whether it be via social media or word of mouth.
Going "viral," is essentially what you want your business to do. Of course, you don't want your product or service to be amusing for a short-lived period of time; but you do want your customers to believe in your product that they pass it on to others, and so forth. Knowing how to position and promote sharing is key to referral success.
Airbnb, for example, integrated with Craigslist to promote their service. It was a risky, creative marketing tactic, but it paid off. Why? They knew their target audience and knew how to get their attention to use, love, and share their services.
Social share buttons, emails, or phone conversations are all possible points at which you can ask people for referrals.
Recap
Following the customer lifecycle really isn't that difficult. If you break it down, you are getting visitors, converting them to customers, keeping those customers happy, and repeating the cycle.
Remember to be mindful of the content and messages you're sending to potential and current customers, and developing a marketing strategy based on the customer lifecycle should be a sinch.