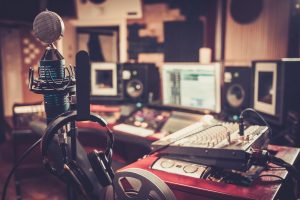 We want to place a bet that either you, or someone you know, has listened to or perhaps even hosts a podcast. These on-demand internet radio shows have become so popular since their inception in the mid-00s, that the average amount of Americans listeners has grown from 11% to 36%. With so many popular (and free!) series available over the past couple years, it's easy to see why there has been such growth.
To help increase exposure and celebrate this form of digital media, International Podcast Day was formed in 2014. Observed this year on September 30th, the founders of Podcast Day encourage podcast enthusiasts to use the day to spread the word on all things podcasting – such as what podcasting is, sharing favorite shows, and having engagement with other listeners.
To show our appreciation, and to celebrate International Podcast Day, we have compiled a list of some of our favorite podcasts. Most of these are marketing, design, and development related, but we also had to throw in a few additional shows we're addicted to, purely because they're awesome. In no particular order:
Developer Tea is a podcast hosted by, you guessed it – a developer, whose target audience are web and software developers. Don't let that deter you however, there's still a lot to learn here even if that job title doesn't apply to you. These short episodes (usually between 10 – 15 minutes), not only cover heavy duty development topics, but also often discuss ideas such as social interactions in the workplace, interviewing, and how to handle side projects. New episodes are released every few days, and they are all available on iTunes.
If you're like us and feel as if you're an entrepreneur at heart, This Week in Startups (TWiSt) might be the right podcast for you. With over 500 episodes under their belt, TWiSt usually releases two new episodes a week, each featuring interviews and roundtable discussions with CEOs, entrepreneurs, and investors. TWiSt rakes in an estimated 100,000 listeners, and we count for at least a few of them.
Warning: this wildly popular podcast is not for the faint of heart! In fact, Sword and Scale is one of the most gruesome true-life crime documentary podcasts available. Why are we including it here? Not only do we appreciate the earnest effort that host Mike Boudet puts into every episode, but we love how a grassroots podcast has become a water cooler topic for offices throughout the nation. If you listen, be sure to tell us what you think!
Copyblogger, a weekly podcast with a running time of about 15 – 30 minutes, features an array of topics pertaining to content marketing. Hosted Sonia Simone, a writer and marketer, the show usually welcomes guests who help analyze and discuss different strategies involving copywriting, email marketing, and content marketing. Copyblogger is also part of a much larger network of podcasts, each one covering a different realm of digital marketing. We'd recommend checking those out too!
Shop Talk Show, a podcast hosted by two of the best minds in UX, front end design, and development, has a little bit longer of a running time than some of the shows previously mentioned. Featuring listener Q&A with hosts Dave Rupert and Chris Coyier, there is literally no stone left unturned as a wide variety of topics, all concerning the workings of the internet, are discussed. If you like very intricate discussions about design and development, this show is for you.
Doug Loves Movies is a weekly podcast hosted by comedian Doug Benson. Since it's start in 2006, most episodes are filmed live in front of a studio audience, feature weekly celebrity guests, and cover a wide range of comedy and movie topics. One of the most popular aspects of this show are the variety of interactive games Doug plays with his studio audience. The most popular is, what can only be described as "Name That Tune" for movies. If you like to laugh and also love movies (like Doug does), take a listen!
Hosted each week by designer and writer Debbie Millman, Design Matters mixes Millman's twenty-plus year experience working as a leader in the design industry with knowledge from other world renowned guests including graphic designers, writers, educators, and artists. If you are a marketer or a designer, there is no doubt that you will find this thought provoking show to be inspirational.
Self-described as a show that aims to help the "lost, lonely, and heartsick," Dear Sugar Radio is a weekly podcast hosted by Cheryl Strayed and Steve Almond. Each week they take one or two questions from listeners who are in desperate need for advice. With empathetic hearts, the two hosts delve deep into the questions, offering useful advice to the listener at the other end.  If you're interest is the human mind and inner workings of interpersonal relationships, give this show a try.
Probably the newest podcast featured on this list, How I Built This is a show from NRP featuring entrepreneurs and innovators, each telling their own story from their own point of view. Learn about how these people came from virtually nothing and went on to each become a success in their own right. This podcast offers a lot of insight to anyone who is aspiring to take the same journey, and will no doubt give you some strong motivation.
With new episodes released every Tuesday, the Social Media Marketing Podcast (from the folks at Social Media Examiner) is a great show for both marketers and businesses alike. With a new topic each week, this podcast teaches you in great detail, the ins and outs of social media. From learning how to leverage YouTube for video marketing, to figuring out the right language to use on each platform, this show has you covered. Not to mention they make sure their listeners get informed on the latest trends and industry changes. Listen each week and your guaranteed to learn something new!
Have a favorite podcast that you'd like us to know about? Help celebrate International Podcast Day and spread the word about it! Feel free to tweet us at @NewbirdDesign with the show link, we'll be sure to give it a listen!