React Website Development
.
Code That Goes The Distance.
React Website Development

15+ years experience
400+ happy clients
What is React Web Development?
React web development (a.k.a ReactJS) is an open-source JavaScript library that helps developers to build user interfaces (UIs). What the heck does that mean? Well, when it comes to websites and web applications, UIs are essentially the menus, search bars, and buttons you see on-screen. Or anything else that a visitor might interact with to use a platform. A complimentary tool to React Native (the mobile app framework), ReactJS code is meant for the web, yet its structure is such that it can easily be repurposed for developing apps with similar, high functionalities. All in all? It's a great digital foundation to have for high-functioning, complex sites.
The development process can be stressful and complicated, we know. This is especially true for large projects with many moving parts, such as a complex website. Utilizing ReactJS for the web helps developers like us to create high-performing sites faster than ever before. Bonus? It also allows us to reuse code for similar web app components—saving you time and money as we go.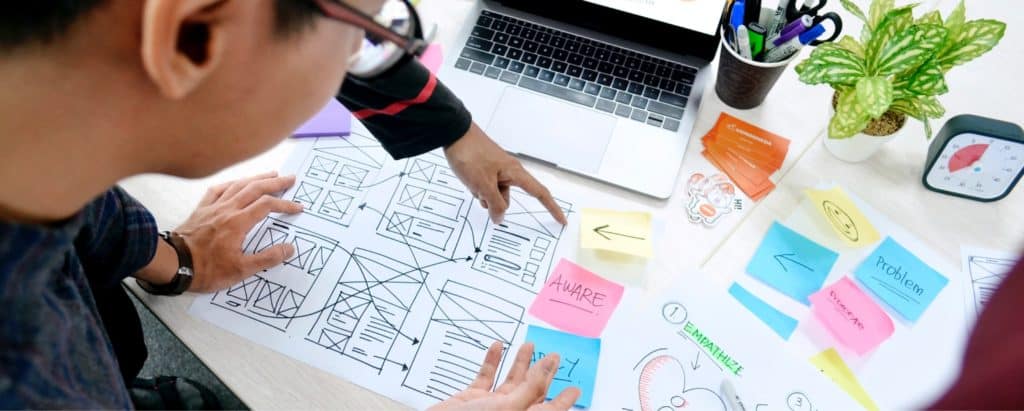 Our React Web Development Expertise
When deciding to use javascript for your website ReactJS is fast, scalable, and simple. Alongside Newbird as your full-service agency partner, there's no limit to what we can achieve for your brand or idea. Our team of passionate and experienced developers understands design and technology to create gorgeous and easy-to-use digital solutions.
The React Web Development Advantage
There's a reason ReactJS is the number one front-end development tool.
Save Time & Money
Eliminate the need for frequent testing and debugging with ReactJS—editing the code doesn't affect all other parts of the site. And with reusable components, developers don't need to create two different codes for similar applications. This means overall, this site is easier to maintain over time.
High-Performance
Javascript allows for faster complex sites: load times, secure payment options, and a cleaner user experience on any device.
SEO Booster
Thanks to ReactJS's quick load times, web pages built with them have a lower bounce rate. This factor alone increases the SEO ranking and performance of the web application.
Add Blockchain To Your Business
Looking to provide Blockchain as a Service (BaaS)? We know many businesses have a growing investment in a blockchain—the digital record of data unable to be modified, a huge game-changer for payments, cybersecurity, and healthcare. At Newbird we like to stay on the cutting edge of technology to create fresh, digital solutions for whatever business goals and needs come your way. When developed correctly, blockchain technology can help your business save money, increase data and security, and automate processes.
Cryptocurrency Transactions
Blockchain-Based ID Protection
Integrate Smart Devices with IoT
Smart Contracts
Our process runs deep
01.
Discovery
Let's dig in deeper. First, we learn about you—then we get to work. Sound good? We think so, here's why.
02.
Project Plan
From there we plan the work, then work the plan. Meanwhile, we give you a bird's eye view of everything we're working on together.
03.
Project Kickoff
A solid strategy is at the heart of everything we do. We'll never kick off a project without it.
04.
Wireframing
We leave nothing to chance when it comes to your online presence. That's why we start with wireframes. 
05.
Web & App Design
Create a platform that's not only functional, it's beautiful.
06.
Development
Our expert team of web developers guides clients to the right platform for their business.
07.
Launch & Hosting
The moment you go live, we test each element manually, and quickly, to ensure it's running as intended. 
08.
Ongoing Design, Development, Marketing
We know running a business takes constant effort, and we're ready to help.